"As within so without" or "as above so below" are an aphorisms associated with sacred geometry, Hermeticism, Baphomet, and the Tarot. The phrases derive from a passage in the Emerald Tablet. The Bible and other writings traditionally render this as "on earth, as it is in heaven." It means that your outer world is a reflection of your inner world.
Whatever is presented to you in your life can inform how you think and feel on the inside. Likewise, what you think and feel is reflected back to you in your real- ity. In this sense, you manifest your life based on how you think and feel.
This year's Men's Fellowship Network Retreat is will explore the theme "As Within, So Without."
Join this network of men as we discover and expand male spirituality, increasing awareness of our inner worlds and outer worlds. In addition, we have the opportunity to construct the bridge between the two worlds to use them both in powerful, creative ways.
We will create a psychologically safe environment to deepen self-understanding, build healthy bonds with each other, and transcend old limiting beliefs and patterns of action. Growth modalities include: Cognitive and behavioral skills – Depth psychology – Meditation – Group dynamics – Journaling
You need not be a member of Unity Church of the Hills  or a  participant in the Men's Fellowship Network. All that is required is to be a man open to personal and spiritual growth in whatever way you define that. This is a non-sectarian event open to men of all faiths or none at all.
To Register, go to: UnityHills.org/Mens-Retreat – Special Early Bird Pricing is Available.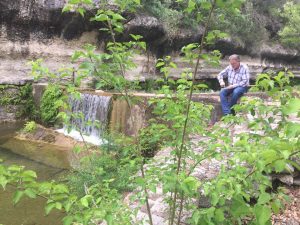 SCHEDULE OF EVENTS –
FRIDAY EVENING, MARCH 15
4:00 pm – Checking begins
6:00 pm – Dinner
7:00 pm – Opening ceremony
SATURDAY, MARCH 16
6:00 am – Sunrise Yoga Hike and Meditation
8:00 am – Breakfast
9:00 am – "Taking Stock of Personal Strengths"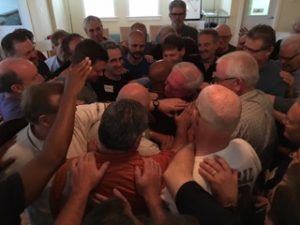 10:00 am – "The Clear Plastic Bag Visualization" with Christopher Howell and John Strubberg
12:00 pm – Lunch
1:30 pm – "Shamanic Journey" with Larry Malone
3:00 pm  – Break
3:30 pm – Shamanic Journey Journaling, Processing & Sharing
5:00 pm – God Walk, Personal Reflection and Silent Meditation with Martin Dowman
6:00 pm – Dinner
7:00 pm – "What are You Committed to Do?" with Jeff Bullion
SUNDAY, MARCH 17
7:00 am – Breakfast
8:00 am – Morning Meditation
9:00 am – Concluding Circle
10:00 am – Depart for 11:25am Service at Unity Church of the Hills
Where: Ancient Yoga Center – 207 Barsana Ave, Austin, TX 78737 (about 30-miles from Unity Church of the Hills)
• Take the Loop 1 South exit and drive 6.3 miles. During this stretch, the highway will stop and start and you will go through two traffic lights.
• Loop 1 South becomes 45 West at a sharp right curve.
• Continue on 45 West for 2.5 miles to FM 1826 (T-junction).
• Turn left onto FM 1826 and drive 3.6 miles.
• Look for a large sign for Radha Madhav Dham on the left. The main entrance to Radha Madhav Dham (also for the Ancient Yoga Center) is 1/4 mile further.
• Turn left at the Radha Madhav Dham main entrance onto Barsana Road and follow the blue and white signs to the Ancient Yoga Center.
***
The Ancient Yoga Center is located behind the Hindu temple (Radha Madhav Dham), and offers four spacious rooms for lectures, discussion groups and breakout sessions. The UCOH men will have exclusive access to the Center from Friday night to Sunday morning.
The Center is surrounded by beautiful grounds withspaces for hiking, medita- tion, and quiet reflection,and has plenty of overnight accommodations, along with full kitchen and dining facilities. Retreat partic- ipants will have access to the Hindu Temple and are welcome to participate in ceremonies.
The menu at the Retreat is 100% vegetarian. The food at the Center is extremely palatable. However, to appease the carnivores in the group, the Retreat weekend will include an optional trip to the nearby Salt Lick for some real Texas BBQ.
***
Temple Policies: UCOH participants are asked to respect the following Template policies: tobacco, illegal drugs, alcohol, and non-vegetarian foods (including eggs) are not allowed anywhere on the grounds. Shoes worn outside should not be worn inside. However, bedroom slippers are permitted in all buildings (except the Temple). To preserve the serene atmosphere, please keep noise to a minimum between the hours of 10:00 pm and 6:00 am.
***