This is not about politics. It is not about economics or stock exchanges. Nor is it about fear.
It is about hope. It is about a people holding onto hope to save their nation.
It is about the courage to stand together in song.
It is about lifting one another up in song; and about lifting one's intentions toward a higher purpose.
Can culture hold a people together and song save a nation and a world?
These short video clips gave me pause, and nudged me to reflect upon the many solemn blessings of our freedom, knowledge and our wisdom often taken for granted.
Oh, that we hold ourselves to a higher purpose through these trying times.
 The song, Finlandia (This Is My Song), was originally written and sung in 1899 as a covert protest against increasing censorship of Finland by the Russian Empire. The lyrics written in 1941 are powerful and speak to the beauty, strength and love of a nation struggling to hold to a higher purpose…
Lyrics:
This is my song, O God of all the nations,
a song of peace for lands afar and mine;
this is my home, the country where my heart is;
here are my hopes, my dreams, my holy shrine:
but other hearts in other lands are beating
with hopes and dreams as true and high as mine.
 
My country's skies are bluer than the ocean,
and sunlight beams on cloverleaf and pine;
but other lands have sunlight too, and clover,
and skies are everywhere as blue as mine:
O hear my song, thou God of all the nations,
a song of peace for their land and for mine.
 
This is my song, O God of all the nations,
a prayer that peace transcends in every place;
and yet I pray for my beloved country —
the reassurance of continued grace:
Lord, help us find our one-ness in the Savior,
in spite of differences of age and race.
 
May truth and freedom come to every nation;
may peace abound where strife has raged so long;
that each may seek to love and build together,
a world united, righting every wrong;
a world united in its love for freedom,
proclaiming peace together in one song.
 
This is my prayer, O Lord of all earth's kingdoms,
thy kingdom come, on earth, thy will be done;
let Christ be lifted up 'til all shall serve him,
and hearts united, learn to live as one:
O hear my prayer, thou God of all the nations,
myself I give thee — let thy will be done.
Oh, that we hold ourselves to a higher purpose.
The Indigo Girls

Most people don't think about singing when they think about revolutions. But song was the weapon of choice when, between 1986 and 1991, Estonians sought to free themselves from decades of Soviet occupation. During those years, hundreds of thousands gathered in public to sing forbidden patriotic songs and to rally for independence.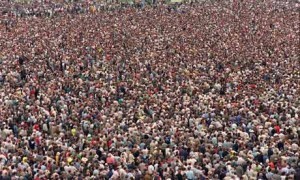 The military history of Finland during World War II encompasses three major conflicts. The first two––the defensive Winter War in 1939–1940, and the Continuation War alongside the Axis Powers in 1941–1944––were waged against the Soviet Union. The third one, the Lapland War in 1944–1945, followed the signing of an armistice agreement with the Allied Powers, which stipulated expulsion of German forces from Finnish territory.
By the end of hostilities, Finland managed to defend its independence, but had to cede nearly 10% of its territory, including its second largest city, Viipuri, and pay out a large amount of war reparations to the Soviet Union. As a result of this territorial loss, all Finnish Karelians were evacuated from their homes, relocating to areas that remained within the borders of Finland.